Visions of Mars
From jbum wiki
Visions of Mars was a project I worked on as Producer / Lead Programmer in 1993-1994, a co-production of the Planetary Society and Time Warner Interactive. It was a small glass CD that was launched to the planet Mars afixed to the landing craft of the Mars 96 mission. That particular spacecraft did not reach the planet, however, another disc with the same content eventually made it to Mars in 2008 aboard the Phoenix spacecraft.
Along with personal messages from leading space visionaries of the time (Carl Sagan, Arthur C. Clarke, among others), narration by Patrick Stewart, Visions of Mars includes a collection of Mars literature, and art, and a list of hundreds of thousands of names of space enthusiasts from around the world. The entire collection was encoded on an archival silica-glass mini-DVD provided by The Planetary Society, designed to last hundreds -- if not thousands -- of years.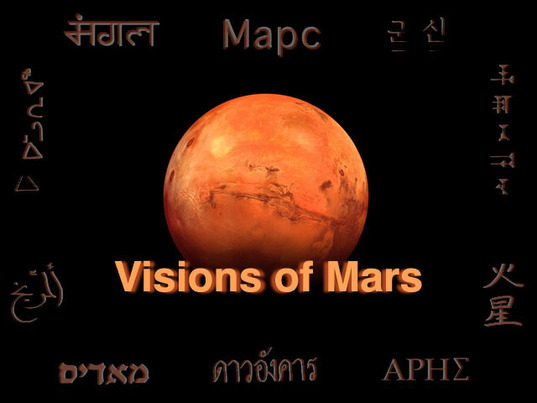 My main collaborators were the accomplished space artist Jon Lomberg, who was the Art Director and Producer of the project, Steve Johnson, who did an enormous amount of production work, and Esther Gwynne, who prepared most of the stories.
Jon provided an historical account of the development of this disc on the Planetary Society website. For this project, I developed a number of extensions to my Idaho authoring system, including the IPTSCRAE language, which was later an essential part of the The Palace architecture.
An HTML/Flash port containing much of the content of the 1994 edition can be found on my coverpop website.